Organic ginseng extract powder is extracted from the roots, stems, and leaves of the Panax plant. It is rich in eighteen kinds of ginseng monomer saponins, soluble in water at 80 ° C, and easily soluble in ethanol.
This extract powder is mainly suitable for symptoms of coronary heart disease, angina pectoris, bradycardia, too fast, ventricular premature dysfunction, blood pressure disorders, neurasthenia, menopausal syndrome, fatigue, post-illness, postpartum, and postoperative weakness.
Long-term use of the powder can prolong life and increase physical strength, and treat cancer patients with immunodeficiency caused by radiotherapy and chemotherapy. It also has anti-cold and hot stress effects, and at the same time, it can enhance the vitality of human surface cells and inhibit aging.
During the extraction process of our organic ginseng extract, only fresh roots are used as raw materials. In addition, It is 100% organic and non-GMO.
Specification
---
PRODUCT NAME
Organic Ginseng Extract Powder
ORIGIN OF PLANT
Panax ginseng C.A.Mey.
ORIGIN OF COUNTRY
China
PHYSICAL / CHEMICAL/ MICROBIOLOGICAL
ASSAY SUM OF GINSENOSIDES, %
(RG1+RE+RB1+RC+RB2+RD,HPLC)
NLT 10.0
APPEARANCE
Fine powder
COLOR
Yellow-brown
TASTE & ODOR
With special odor and flavor of ginseng. Without obviously visible impurities.
PARTICLE SIZE
95% pass 80mesh
LOSS ON DRYING
NMT 5.0%
ASH
NMT 5.0%
BULK DENSITY(UNTAPPED)
0.37-0.60G/ML
BULK DENSITY(TAPPED)
0.50-0.90G/ML
SOLUBILITY
100% water soluble
HEAVY METAL
Pb≤1.0mg/kg
As≤0.5mg/kg
Cd≤0.2 mg/kg
Hg≤0.2 mg/kg
PESTICIDE RESIDUE
Complies with NOP & EU organic standard
MICROBIOLOGICAL
TPC (CFU/GM)
≤1,000 cfu/g
MOULD & YEAST
≤ 100cfu/g
SALMONELLA
Negative
ESCHERICHIA COLI
Negative
STAPHYLOCOCCUS AUREUS
Negative
STORAGE
Cool, Ventilate & Dry
PACKAGE
25kg/drum
SHELF LIFE
24Months
REMARK
Customized specification also can be achieved
Packing
---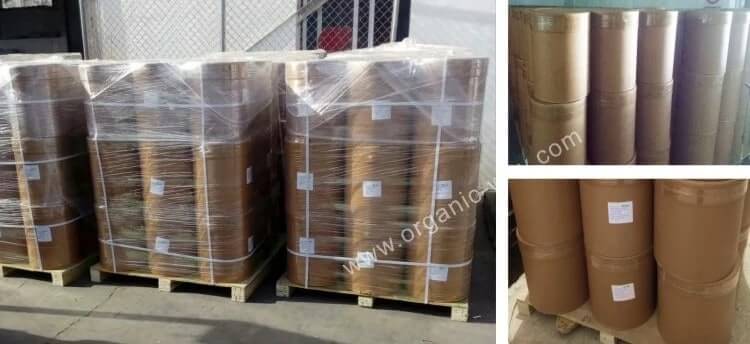 Express
Under 100kg, 3-5Days
Door to door service easy to pick up the goods
By Air
100kg-1000kg, 5-7Days
Airport to airport service professional clearance broker needed
By Sea
Over300kg, Around 30 Days
Port to port service professional clearance broker needed
We are always here waiting for you!