Organic ginger powder is made from air-dried ginger root. Ginger is a flowering plant whose rhizome, ginger root, or simply ginger, is widely used as a spice or folk medicine. Ginger is one of the most commonly used spices in cooking and can be used in salty and sweet dishes all over the world. It creates great warmth and flavor in dishes, but it is also combined with Ayurvedic therapy to relieve colds, sore throats, and coughs. It also has analgesic, sedative, anti-inflammatory, and antibacterial effects.
Ginger also contains a variety of vitamins and minerals such as pyridoxine, pantothenic acid, potassium, manganese, copper, and magnesium. As a result, it is related to reducing nausea, and studies have shown that migraine can be reduced.
For thousands of years, ginger powder has been used in traditional medicine, thanks to its rich supply of antioxidants and anti-inflammatory compounds, such as gingerol, beta-carotene, capsaicin, and curcumin. The health benefits of ginger powder include aid in weight loss efforts, improving the appearance of the skin, and reducing headaches, among others.
The Ginger powder is used in a number of ways, including as a brewing agent for tea, as a ginger foot bath, salve, tinctures, and in the form of candy, among many others. The powder may need to be combined with other oils and binding agents, but the nutrient quality and active ingredients can be retained in the majority of different applications.
Specification
---
Product Name
Organic Ginger Powder
Latin name
Zingiber officinale Roscoe
Use part
Roots
Item
Specification
Chemical & physical control
Appearance
Light yellow powder
Taste & Odor
Characteristic
Particle size
100%Through 80 mesh
Moisture
≤5.0%
Ash
≤5.0%
Residue of pesticide
NOP& EU organic standard
Total Heavy metal
<10 ppm
Lead
<1ppm
Arsenic
<1 ppm
Cadmium
<1 ppm
Mercury
<0.1 ppm
Total Plate Count
≤100,000cfu/g
Yeast & Mold
≤500cfu/g
Coliforms
≤100cfu/g
E.Coli
Negative/10g
Salmonella
Negative/10g
Conclusion
Complied with NOP & EU organic standard
Storage
Store in a cool, dark, and dry area
Shelf Life
2 years if properly storage
Packing
---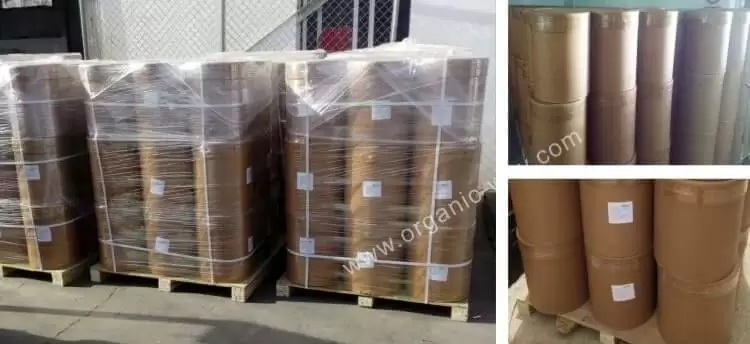 Express
Under 100kg, 3-5Days
Door to door service easy to pick up the goods
By Air
100kg-1000kg, 5-7Days
Airport to airport service professional clearance broker needed
By Sea
Over300kg, Around 30 Days
Port to port service professional clearance broker needed
We are always here waiting for you!