Organic corn starch is the lightest, most versatile starch. It's made by Non-GMO corn. With twice the thickening power of flour, it's an efficient thickener in everything from gravies and sauces to puddings and pie fillings.
Cornstarch contains linoleic acid and vitamin E, which can lower cholesterol levels in the body, thereby reducing the occurrence of arteriosclerosis. It contains more calcium and iron, which can prevent hypertension and coronary heart disease. It also contains trace element selenium, which can accelerate the decomposition of oxides in the body and inhibit malignant tumors.
The rich dietary fiber in corn starch can promote intestinal peristalsis, shorten the time for food to pass through the digestive tract, reduce the absorption of toxic substances and stimulate the colon by carcinogens, thus reducing the incidence of colon cancer.
Cornstarch is a good thickener and emulsifier. It can be used in baby foods, medicines, seasonings, and other processed food mixtures. it can also be used as a filler and binder for drugs. Due to its excellent biodegradability, corn starch can also be used to process thermoplastic starch plastics.
Our organic corn farm is located in northeast China with a suitable climate and fertile soil to ensure the quality of corn. We can also provide customized corn starch according to customer needs, such as pre-gelatinized and modified corn starch.
Specification
---
PRODUCT NAME
Organic Cornstarch Powder
ORIGIN OF PLANT
Zea mays L.
ORIGIN OF COUNTRY
China
PHYSICAL / CHEMICAL
APPEARANCE
Fine powder
COLOR
White or light yellow
TASTE & ODOR
Corn starch odor, no foreign odor
PROTEIN(DRY BASIS)
≤ 0.4%
FAT
≤ 0.15%
MOISTURE
≤ 14%
ASH
≤ 0.15%
WHITENESS
≥ 90%
FINENESS
≥ 99.5%
SPECKLE
≤ 0.20 /cm2
 ACIDITY
≤ 1.8 ºT
HEAVY METAL
Pb
As
PESTICIDE RESIDUE
Complies with NOP & EU organic standard
STORAGE
HR < 60%  T < 25°C
SHELF LIFE
24Months
PACKAGE
25 kg/bag or 1000 kg/bag
REMARK
Customized specification also can be achieved
Packing
---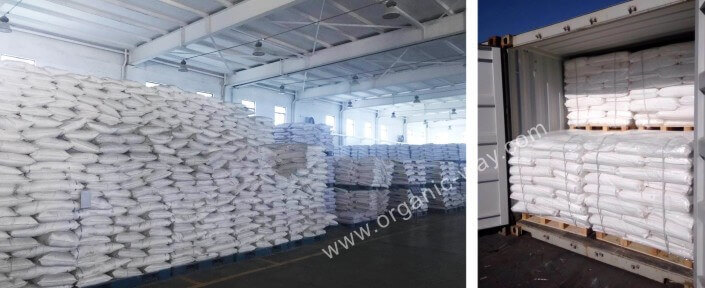 Express
Under 100kg, 3-5Days
Door to door service easy to pick up the goods
By Air
100kg-1000kg, 5-7Days
Airport to airport service professional clearance broker needed
By Sea
Over300kg, Around 30 Days
Port to port service professional clearance broker needed
We are always here waiting for you!