Organic Chaga mushroom powder is a fungal powder called Chaga, whose Latin name is Inonotus obliquus. Chaga mushrooms grow mainly on birch bark in cold climates. There are also other names such as black nuggets, porous clinker, birch ulcerative porous material, cinder concentrate and aseptic rot (birch).
This powder is a powerful antioxidant and a source of superoxide dismutase (SOD) to prevent oxidation, especially free radicals (such as singlet oxygen) that can damage tissues. It is a source of more than 200 phytonutrients.
Chaga powder contains vitamins B and D, flavonoids, phenol, copper, calcium, potassium, manganese, zinc, iron, and enzymes. It is also an important source of pantothenic acid, riboflavin, and niacin, helping the adrenal glands and digestive organs. It has been used to improve cognitive function and memory loss.
As a manufacturer/processor/wholesaler, we are honored to provide you with our Organic chaga mushroom powder. We are proud of the legality and traceability of our products and provide you with EU & USDA certified fungus powder!
Specification
---
Basic Information
Product Name
Organic Chaga Mushroom Powder
Latin Name
Inonotus obliquus
Test Method
HPLC  UV
Used Part
Fruit body
Appearance
brown yellow powder
Odor &Taste
Characteristic
Active Ingredient
Polysaccharide
Physical Characteristics
Sieve Analysis
NLT 100% pass 80 mesh
Loss on Drying
≤4.0%
Ash Content
≤2.0%
Residual Solvents
Ethanol
≤5000ppm
Total Heavy Metals
≤20ppm
Pesticide Residues
≤10ppb
Microbiological Assay
Total Plate Count
1000cfu/g
Total Yeast & Mold
100cfu/g
E.Coli
Negative
Salmonella
Negative
Staphylococcus
Negative
Storage
Store in a cool & dry place. Keep away from strong light and heat.
Shelf life
24 months when properly stored.
Packing
---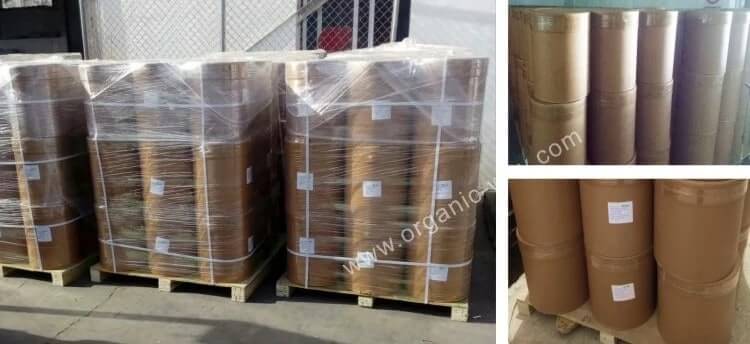 Express
Under 100kg, 3-5Days
Door to door service easy to pick up the goods
By Air
100kg-1000kg, 5-7Days
Airport to airport service professional clearance broker needed
By Sea
Over300kg, Around 30 Days
Port to port service professional clearance broker needed
We are always here waiting for you!