Organic Chaga extract powder is made from perennial Chaga fruit bodies. Chaga is an irregularly shaped fungus that usually grows on birch, eucalyptus, and beech trees. The fruit body of Chaga is composed of oxalic acid, formic acid, acetic acid, polysaccharides, fiber, and resin, which can improve appetite and eliminate pain. It can reduce the cholesterol content in the blood.
According to academic research, in the 16th and 17th centuries, Chaga was widely used in Eastern Europe, Russia, Poland, Finland and other folks to prevent and treat various incurable diseases such as various digestive organ cancer diseases (stomach cancer, esophagus) Cancer, bowel cancer, liver cancer), heart disease, leukemia, diabetes, etc., have shown excellent results. Clinical trials from Russia and Japan have confirmed that Chaga significantly improves the body's immunity, inhibits the proliferation and metastasis of tumor cells, and can effectively prevent cancer in patients with gastric ulcers.
For a long time, the first medical institute in St. Petersburg, Russia, which has been working on Chaga, has applied Chaga to many inoperable advanced cancer patients and found many pleasant changes. The restoration of appetite began to show pain relief and weight gain. This improvement has enabled most patients to prolong their lives, thereby gaining confidence and courage to actively fight cancer.
Research by Japanese authoritative research institutions shows that the main active ingredient of Chaga is polysaccharides, the most important of which is β-glucan. Whether it is water-soluble polysaccharides or non-water-soluble polysaccharides, it has proved to have good anti-cancer, hypoglycemic, and immune revival effects, which can inhibit the spread of cancer cells and prevent cancer recurrence; it can also enhance the body's immunity, reduce chemotherapy, radiation therapy, and surgery Side effects.
Chaga extract contains non-linear polysaccharides with powerful immune support properties. The powder can be widely used in oral liquid, tablets, soft capsules, beverages, cosmetics, food, and other fields.
Our mushroom material comes from the Great Xing'an Mountains in northeast China near Russia. The ecological conditions and quality are the same as Siberian Chaga, which is the best Chaga material in China. We also supply organic chaga mushroom powder.
Specification
---
Basic Information
Product Name
Organic Chaga Mushroom Extract Powder
Latin Name
Inonotus obliquus
Used Part
Fruit body
Appearance
Fine powder, brown to black
Odor &Taste
Characteristic
Physical Characteristics
Beta-glucans
≥ 15%
Polysaccharides
≥ 18%
Sieve analysis
100% pass 100 mesh
Loss of drying
≤ 7%
Ash
≤ 25%
Microbiological quality
Total bacterial count (cfu/g)
< 10,000
Yeast and molds (cfu/g)
< 1,000
E. Coli (cfu/g)
< 100
Salmonella
Absent / 25g
Staphylococcus
Absent / 25g
Heavy metals
Lead (as Pb)
≤ 1.0 mg/kg
Arsenic (as As)
≤ 1.0 mg/kg
Cadmium (as Cd)
≤ 1.0 mg/kg
Mercury (as Hg)
≤ 0.1 mg/kg
Storage parameters
Store at room temperature or lower, keep tightly closed, protect from light, humidity and insects.
Shelf life
2years
Packing
---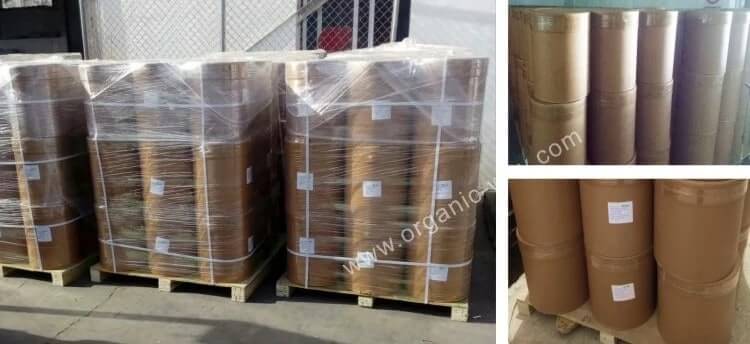 Express
Under 100kg, 3-5Days
Door to door service easy to pick up the goods
By Air
100kg-1000kg, 5-7Days
Airport to airport service professional clearance broker needed
By Sea
Over300kg, Around 30 Days
Port to port service professional clearance broker needed
We are always here waiting for you!