Organic Ginkgo biloba extract powder is, as the name implies, extracted from organic ginkgo leaves. Ginkgo Biloba Extract, also called EGB 761, is a standardized extract of Ginkgo Biloba leaves. It contains 24% flavone glycosides (primarily quercetin, kaempferol, and isorhamnetin) and 6% terpene lactones (2.8-3.4% ginkgolides A, B and C, and 2.6-3.2% bilobalide). Ginkgo Biloba Extract has antioxidant properties and is a free radical scavenger. It is widely used in pharmaceuticals, dietary supplements, food additives, functional drinks, and cosmetics.
It is a unique species with no close living relatives. Ginkgo Biloba's most powerful effect is on the circulating system. Ginkgo flavonoids directly dilate the smallest segment of the circulating system, the micro-capillaries, which increase both blood circulation and oxygen levels in the brain and in other critical organ tissues.
It also prevents platelet aggregation or clumping inside the arterial walls. This increases arterial wall strength and flexibility and decreases the opportunity for the formation of arteriosclerotic plaque. Since ginkgo Biloba extract increases oxygen flow to the brain and enhances the brain's uptake and utilization of glucose, it also is being researched for its role in the senility, forgetfulness, headaches, and Alzheimers disease and its role in improving alertness, memory, and mental performance.
Specification
---
| Product Name | Organic Ginkgo Biloba Extract Powder |
| --- | --- |
| Latin name | Ginkgo Biloba L |
| specifications | Flavone 24%, Lactones 6% |
| Molecular Formula | C15H18O8 |
| Form | Powder |
| Used Part | Leaf |
| Taste | Characteristic |
| Type | Herbal Extract |
| Appearance | Brownish-yellow fine Powder |
| Odor | Characteristic |
| Grade | Pharmaceutical & Food Grade |
| Extraction Type | Solvent Extraction |
| Active ingredients | Flavone, Lactones |
| Molecular Weight | 326.3 |
| Test Method | HPLC |
| Storage | Store in cool and dry places, keep away from strong light. |
| Shelf life | 2 years when properly stored. |
Packing
---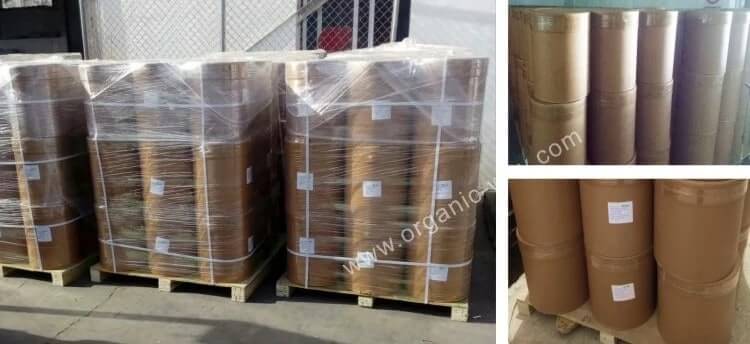 Express
Under 100kg, 3-5Days
Door to door service easy to pick up the goods
By Air
100kg-1000kg, 5-7Days
Airport to airport service professional clearance broker needed
By Sea
Over300kg, Around 30 Days
Port to port service professional clearance broker needed
We are always here waiting for you!
---